Managed Forex accounts are an investment opportunity for those who want the potential of returns from leveraged forex trading, are willing to take serious risks, and want to have professionals do the work of trading and selection. It consists of putting money in a Forex account and having a professional trade that money in the Forex markets.
A managed forex account is a trading account where a professional forex trader (money manager) manages the trading on the clients' behalf and charge a performance fee for the service. Managed Forex Accounts are fully segregated accounts individually owned by each investor at a brokerage firm. These forex trading accounts are also called sub or slave accounts and the money manager trades from a master account at the same brokerage firm.
Risk and Reward
This investment is high-risk, high-reward.
Minimum Deposit
Forex firms can offer managed account services with a deposit as low as $2,000.
Understanding managed forex accounts
Individual speculators typically open forex accounts and attempt to trade based on their own information and speculation. Many find this to be notoriously difficult, though the few that succeed at it are able to make extreme returns that are multiples of typical equities markets. Using the services of a professional manager is a way to attempt skipping the extra time and eventual loss that comes to inexperienced traders in this market, and hoping that a more seasoned professional can be trusted to deliver the hoped-for returns.
Managed forex accounts offer exposure to an asset class much different than stocks or bonds. Unlike these equities which deliver returns in the form of share growth, interest payments or dividends, forex trades gain in value as the value of one currency will rise or fall in relation to another.
Those who are not experts in foreign currencies but still want exposure to the market and another asset class, may consider a managed Forex account. Using a managed account, they can take advantage of the expertise of an experienced and proven Forex trader. The downside to this approach is that the best managers typically charge high-performance fees of between 20% and 30% of a trade's earnings.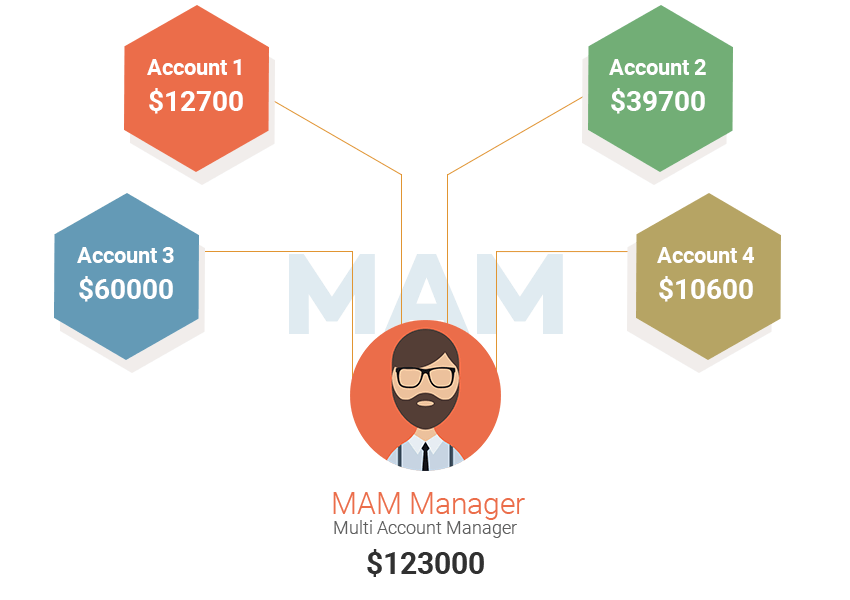 The money manager (professional forex trader) and client investor need to sign a contract provided by the brokerage company which is called Limited Power of Attorney agreement (LPOA). This document is an agreement between the professional trader (money manager) and the client (investor) which enables the trader to trade on investor's account on their behalf. Investor and the manager cannot transfer the funds to each other trading accounts. LPOA document provides a high level of security, control, and transparency that's comfortable for the investor. When signing LPOA, the managed (sub account) account gets placed in MAM (Multi Account Management) system, and as stated above, investor has full control of their account. Investor can check the balance, deposit and withdraw funds, monitor trading activity, or cancel the LPOA agreement at any time if they are not satisfied with the management service. Money manager can trade for many investors all from a single master account using PAMM or MAM software. These technical procedures are integrated into most reputable brokerages, making it possible for professional forex traders to manage investor accounts.
Brilliant plans executed with expertise
HOW VESBOLT PAMM/MAM works
Example:
If a PAMM / MAM account has 3 clients with various deposits as follow, which in total the amount is US$ 100,000.
Investor A – US$ 15,000 (15%)
Investor B – US$ 50,000 (50%)
Investor C – US$ 35,000 (35%)
If the portfolio managers generate profits of US$ 12,500 in the PAMM / MAM account, the profits will be divided among the investors according to the percentage above. VESBOLT portfolio managers charge performance fee of 25% of the total profits of US$ 12,500. The portfolio managers shall be entitled for US$ 3,125 and the balance of US$ 9,375 shall be divided among the investors.
Investor A – US$ 1,406.25 profit (15% of US$ 9,375)
Investor B – US$ 4,687.5 profit (50% ofUS$ 9,375)
Investor C – US$ 3,281.25 profit (35% ofUS$ 9,375)
The following chart shows the profit and loss allocated proportionally to the participating investors and performance fee to portfolio managers in the PAMM / MAM account.
Why invest in Managed Forex Accounts with VESBOLT?
Clients invested funds are managed by a professional trader (money manager) with no access to the capital.
Investor does not need any technical knowledge or skills about forex trading.
Investor can choose among leading investment strategies.
Investor can open account with any top regulated broker partners.
Performance fee is charged only at the end of profitable month subject to high watermark basis.
Total control over trading account. Investor can deposit, withdraw or cancel management service at any time.
Clients have information on the balance of their accounts 24 hours a day, 7 days a week.
The freedom to trade with confidence